Mike Mostek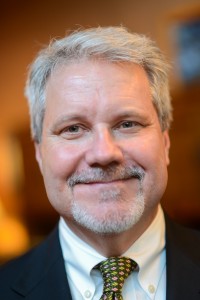 Having practiced for more than 30 years in two very successful Omaha firms, Mike is proud of saying "I've practiced with probably 200 of the best lawyers Omaha and Nebraska have to offer." In fact, his years working in the law have garnered a wealth of experience, and that experience benefits each and every client that comes through the door today.
Practice
Mike's practice is now focused on environmental, real estate and corporate law. The solutions he brings to those areas are colored by a lot of experience in finance, bankruptcy, employment, real estate, mergers and acquisitions, and multiple other areas. As lead counsel, he has tried both bench and jury trials in state and federal court, and his work in the environmental and safety areas brought experience in many administrative proceedings. His appellate experience includes state and federal appellate courts, including briefs to the United States Supreme Court.
His environmental and safety practice is centered on the representation of industrial and agricultural production facilities, which includes permitting, compliance, transactional due diligence, risk identification, risk mitigation and civil penalty proceedings. He has also served as lead counsel in the finance, construction and operation of numerous biofuel facilities in a half dozen states. He has worked on projects in more than 38 of the 50 United States, as well as projects involving the purchase of biofuel feedstock in Asia. Mike also serves as special counsel to many lawyers and smaller law firms who trust him to help their clients by lending his expertise when the need arises.
He has a very strong, long-standing and evolving interest in the fundamental law of civil rights, which some would say will gain greater emphasis and importance in the years and decades to come. He believes law students and younger lawyers would do well to place their focus on the Bill of Rights, and guarding the liberties we enjoy because of the sacrifices of so many. He believes lawyers are among the most important guardians of our liberties.
Education
Mike earned his Juris Doctor degree at Creighton University (1985) and his Bachelor of Arts degree from the University of Nebraska at Kearney (Political Science, Business Administration, Speech Communication, 1982). He holds a Diploma in trial advocacy skills from the National Institute for Trial Advocacy (1989) and was certificated as a lead auditor for ISO 14000 Environmental Management Systems by the British Standards Institute (1996).
Honors
Mike has been honored for many years to be listed among the Great Plains Super Lawyers in Environmental Law. He is Martindale-Hubbell Peer Review Rated, holding an AV® Rating. For the last ten years, Mr. Mostek has been selected by his peers as one of the Best Lawyers in America (© Woodward/White Inc.) in the specialty of Environmental Law and recently Environmental Litigation (2006 – 2016).
Most recently he was honored as the Best Lawyers' 2016 Omaha Environmental Law "Lawyer of the Year." Only a single lawyer in each practice area in the community is honored as "Lawyer of the Year."
Community
Mr. Mostek is active in his community and state, having served on the Douglas County Local Emergency Planning Committee, the Governor's Omaha Council on Lead-Safe Neighborhoods and the Nebraska Department of Environmental Quality's Business Advisory Group. He was a member of the Board of Directors for the Governor's Council to Keep Nebraska Beautiful for nine years, and served as Chairman of the Board for three of those years (2010 – 2012). He is past Chairman of the Natural Resources and Environmental Law Section of the Nebraska State Bar Association and a longtime member of the Nebraska Industrial Council on the Environment, having served as Chairman of that organization for four years (2004 – 2006).
In 2012, Governor Dave Heineman made Mike an Admiral in the Great Navy of the State of Nebraska in recognition of his years of service to the Governor's Council to Keep Nebraska Beautiful.
Mike is a graduate of the FBI Citizen's Academy – Omaha, and now a member of the FBI Citizens Academy Alumni Association – Omaha District.
Mr. Mostek is a popular and frequent lecturer on environmental and real estate issues, and, with the late Zeph Telpner, CPA, co-author of the book, "Expert Witnessing in Forensic Accounting: A Handbook for Lawyers and Accountants," CRC Press LLC (2002). He has a passion for writing and, at times, has been known to introduce himself as "a writer who happens to be a lawyer."
CV
| | |
| --- | --- |
| Practice Areas | Environmental, Industrial Safety, Real Estate and Corporate Law; Administrative, Trial and Appellate Practice with emphasis on Environmental, Real Estate, and Corporate Matters |
|   |   |
| Scope of Practice | Majority of Practice concentrated on Environmental, Real Estate and Corporate Law in the United States including administrative, regulatory, litigation, real estate and industrial development matters in more than 38 states, including Nebraska, Kansas, Missouri, Iowa, Arizona, Colorado, South Dakota, Minnesota, Wisconsin, Michigan, Illinois, Indiana, Pennsylvania, Maine, Connecticut, New Jersey, New York, Illinois, Indiana, West Virginia, Alabama, Florida, Tennessee, Georgia, Louisiana, Texas, Nevada, Utah, California, Hawaii and Oregon |
|   |   |
| Special Emphasis – Metal Fabrication and Finishing | Counsel to medium and heavy industrial facilities providing day to day interpretation and compliance advice in environmental and safety matters, including general environmental and safety compliance self-audits, work in the RCRA, NPDES, CWA, CAA, EPCRA programs, ground water releases, monitoring, cleanups, civil penalties, tort claims, access agreements, city water supply agreements, RCRA closure and post-closure permitting and compliance, permit modifications; and in the safety area general industry standard, machine guarding, general training, reporting, workforce communications; additional experience representing construction contractors under the construction standard |
|   |   |
| Special Emphasis – Green Energy | General and special counsel in the acquisition, financing, development, construction and operation of green energy production facilities in Ohio, Indiana, Nebraska, California and Oregon to include project financing, offering memoranda, engineering, procurement and construction (EPC) agreements, raw material supply agreements, offtake agreements, energy supply agreements, rail loop agreements, other transportation agreements, pipeline construction easements and agreements |
|   |   |
| Special Emphasis – Waste Management | Special counsel in RCRA permitting and compliance matters including RCRA closure, post-closure, financial assurance, recovery and processing of landfill gases for beneficial use. |
|   |   |
| Special Emphasis – Agribusiness | Special counsel work in confined animal feeding operations including feedlot permitting and compliance, NPDES permitting and compliance, water runoff and storage, water balance, nutrient management plans, ground water monitoring, nutrient offtake agreements, feeding and backgrounding agreements; special counsel to meat processing facilities on general compliance including NPDES pretreatment permits, treatment facility permitting and construction, effluent and solid waste management; special counsel to grain storage facilities on permitting and compliance with the Clean Air Act, management of particulate matter including road dust; special counsel to fertilizer manufacturers on permitting and compliance matters, including solid waste, RCRA closure and post-closure, NPDES and wastewater management |
|   |   |
| Special Emphasis– Due Diligence | Special counsel in M&A teams working on a nationwide basis in the purchase and sale of manufacturing and other businesses to scope due diligence including ASTM E-1527 environmental site assessments, design, oversight and interpretation of ground water and soil testing, negotiation of access agreements, risk mitigation, indemnity clauses and agreements, target compliance audits and advice to clients assessing the environmental cleanup and risk profile for more than two dozen transactions |
|   |   |
| Admissions | Nebraska Supreme Court, 1985 |
|   | United States District Court, District of Nebraska, 1985 |
|   | United States Eighth Circuit Court of Appeals, 1989 |
|   | United States Supreme Court, 1990 |
|   |   |
| Professional Memberships | Member, Nebraska State Bar Association (NSBA) |
|   | Admiral, The Great Navy of the State of Nebraska |
|   |   |
| Education | Creighton University, School of Law, J.D., 1985 |
|   | University of Nebraska at Kearney, B.A., 1982, Business Administration, Political Science, Speech Communication |
|   |   |
| Continuing Education | Diploma — Trial Advocacy Skills, National Institute for Trial Advocacy, Inc., 1989 |
|   | Certificate — ISO 14000 Lead Auditor for Environmental Management Systems, British Standards Institution, 1996 |
|   |   |
| Community Associations | Representative, Nebraska Industrial Council on Environment, 1997 – 2014, Chairman, 2001-2004 |
|   | Member, NSBA Natural Resources and Environmental Law Section, Chairman 1996 -1997 |
|   | Member, ABA Section of Environment, Energy and Resources Law |
|   | Member, Nebraska Chamber of Commerce and Industry, Environmental Council, 1997 – 2000 |
|   | Member, Douglas County, Nebraska, Local Emergency Planning Committee, 1998 – 2000 |
|   | Director, Keep Nebraska Beautiful, 2004 – 2012, Chairman 2009-2012 |
|   | Member, FBI Citizens Academy Alumni Association, Omaha District, 2015 – Present |
|   |   |
| Selected Lectures And Publications | "CERCLA Issues Lender Liability Update," Nebraska Continuing Legal Education, Inc. 1994 |
|   | "The Paralegal's Role in Real Estate Transactions in Nebraska," National Business Institute, Inc., 1995 |
|   | "Risk Management in Health Care Settings   Environmental Risks and Medical Waste Management," Lorman Education Services, 1996 |
|   | "Current Environmental Issues in Real Estate Transactions — Lenders, Buyers and Sellers," Nebraska Continuing Legal Education, Inc., 1996 |
|   | "Advanced Real Estate Law in Nebraska," National Business Institute, Inc., 1995-1998 |
|   | "How to Negotiate with a Regulator," Environmental Management Conference, Nebraska Safety Council, Inc., 1998 |
|   | "Mastering Real Estate Titles and Title Insurance," National Business Institute, Inc., 1999 |
|   | "Compliance Audits Internal Practices," Environmental Management Conference, Nebraska Safety Council, Inc., 1999 |
|   | "Nebraska Real Estate Law Problems and Solutions," National Business Institute, Inc., 2000 |
|   | "How to Conduct an ISO 14001 Environmental Audit," Environmental Management Conference, Nebraska Safety Council, Inc., 2000 |
|   | "How to Conduct an ISO 14001 Environmental Audit," Environmental Management Conference, Nebraska Safety Council, Inc., 2000 |
|   | "Understanding Surveys for the Commercial Real Estate Professional," Commercial Real Estate Workshop, World Group LLC, 2000 |
|   | "Audit Laws and Policies," 2000 State Hazardous Waste Conference, Association of State and Territorial Solid Waste Management Officials (ASTSWMO), Albuquerque, New Mexico, July 2000 |
|   | "Current Environmental Issues and Title Problems in Real Estate Transactions," Nebraska Continuing Legal Education, Inc., 2000 |
|   | "Advanced Principles of Title Insurance in Nebraska," National Business Institute, Inc., 2000 |
|   | "Waste Management and Environmental Management Systems," 45th Annual Great Plains Waste Management Conference, 2001 |
|   | "ISO 14001 An Auditor's and Attorney's Perspective," ISO User's Network, ASQ Nebraska Section 1302, 2001 |
|   | "Introduction to ISO 14000," Midwest Paint and Coatings Conference, 2001 |
|   | "The Inspector RCRA Inspections and the Civil Penalty Process," Nebraska Safety, Health & Environmental Conference, 2001 |
|   | "Self-Disclosure and Due Diligence – A Case Study," Nebraska Safety, Health & Environmental Conference, 2001. |
|   | "Environmental Management Systems What You Don't Know Can Hurt You," Region VII Environmental and Safety Symposium, Associated Industries of Missouri, 2001 |
|   | "Environmental Management Systems & ISO 14001 Implementation For the 21st Century Business," Workshop, WasteCap of Lincoln, 2001 |
|   | "Environmental Risk Management," Environmental ManagementConference, Nebraska Chapter Associated General Contractors, 2002 |
|   | "Identifying the Environmental Aspects and Impacts of Your Operations," Nebraska Safety, Health & Environmental Conference, 2002. |
|   | "Environmental Update – Bona Fide Prospective Purchaser and Other CERCLA Amendments," Nebraska Continuing Legal Education, 2002 |
|   | "Agriculture and the Mississippi River Watershed," Water Law Conference, Nebraska Water Center, March 2015 |
|   |   |
| Publications | M. Mostek, "Limited Privilege and Immunity for Self-Evaluative Environmental Audits in Nebraska, Moving Environmental Performance to the Next Level," 32 Creighton Law Review 101, 1998. |
|   | "Advanced Environmental Due Diligence: Now it is Better to be Bona Fide than Innocent,"   The Nebraska Lawyer Magazine, August 2002 |
|   |   |
| Book | Z. Telpner and M. Mostek, "Expert Witnessing in Forensic Accounting: A Handbook for Lawyers and Accountants," CRC Press LLC, Boca Raton, Florida, 2002 |
|   |   |
Photo by Anna Mostek Photography